Hugo Rodríguez Arteaga, fagot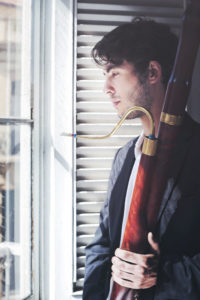 Hugo Rodríguez Arteaga began studying bassoon in Santa Cruz de Tenerife, Spain, in 1999 with Prof. Maximiano Vera. In 2007 studied in Conservatorio Superior de Canarias with Ana Sánchez Clemente and finished with honors. After 2011 he studied historical bassoons and orchestral conducting in the Royal Conservatory of The Hague. In 2017 he finished Master studies in The Hague with honors and distinction.
He plays in ensembles as the Orchestra of the Eighteenth Century, Die Kölner Akademie, MusicAEterna, Capella Cracoviensis, Lutherse Bach Ensemble, Les Vents Atlantiques, Orquesta Sinfónica de Galicia, Vox Luminis and more several groups. He has worked together with Frans Bruggen, Teodor Currentzis, James Coonlon, Rinaldo Alessandrini, Alfredo Bernardini, Marcus Creed, Harry Christophers, Alessandro de Marchi, Michael Alexander Willems, Pietro Rizzo, more active conductors.
Nowadays, he performs with several of the mentioned and other ensembles. On the research field, he is coworking on study of early small-sized bassoons and also on the Romantic performance practice on wind instruments.