Luthers Bach Ensemble – since 2006
The Luthers Bach Ensemble was founded in 2006 from a desire to perform more Bach cantatas using authentic performance practice. The repertoire was soon expanded to include works ranging from Monteverdi to Mozart. The LBE choir is a tightly-knit group of around twenty (semi-)professional singers who perform approximately fifteen concerts per year in the Netherlands and abroad. Since its foundation, LBE has had a professional Baroque orchestra, built around a core of exceptional instrumentalists and vocal soloists. Its artistic director is Tymen Jan Bronda. Top conductors Ton Koopman, Jos van Veldhoven and Peter Dijkstra have worked with the LBE in recent years.
The LBE aims to involve the audience in the emotional richness and intense drama of Baroque music, for example through theatrical performances. This is consistent with the views from the time of Bach that music can give emotional insight into the essential aspects of life.
The LBE is based in the Lutheran Church in Groningen. The building on the Haddingestraat has evolved over the years into an important platform for smaller ensembles and chamber music. The arrival of the new Schnitger organ in 2017 has been a major boost for musical performances with this organ, a combination unique to the Netherlands. In the eighteenth century the choir and orchestra performed with the original Schnitger organ (1717 ) in this Lutheran Church until the organ was removed and lost to posterity in the nineteenth century.
---
Overlijdensbericht Fenny
Vanaf ons tweede concert tot begin vorig jaar was Fenny een van ons. Bij alle concerten was ze erbij met haar mooie alt en haar vrolijke en warme inborst. Gaandeweg werd ze anders en meer in zichzelf gekeerd, totdat ze begin vorig jaar aangaf te willen stoppen en ze vertrok. Tijdens de uitvoeringen van de Johannes-Passion was ze er voor het laatst bij, als toeschouwer. Ze oogde gelukkig, weer de oude Fenny en we hoopten dat ze haar nieuwe leven had gevonden. Helaas was het anders….
We gedenken haar met dit koraal uit de Matthäus-Passion, waar ze nog bij was.
Fenny, hopelijk heb je nu rust gevonden. We zullen je missen!
Bekijk hier de live feeds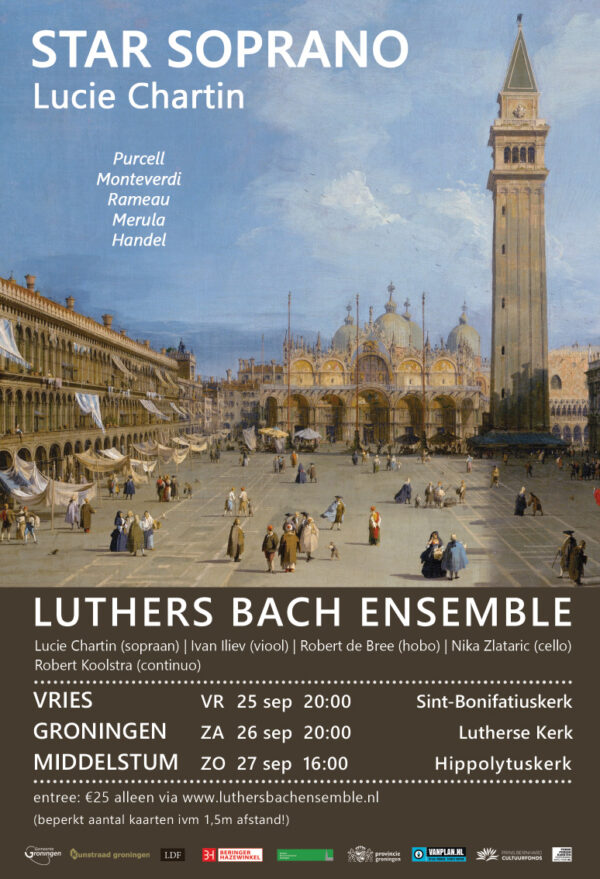 Star Soprano
vrijdag 25 september 20:00 uur Sint-Bonifatiuskerk Vries
zaterdag 26 september 20:00 uur Lutherse kerk Groningen
zondag 27 september 16:00 uur Hippolytuskerk Middelstum
programma
Sopraanaria's van Purcell, Monteverdi, Handel, Mancini en Delalande
uitvoerenden
Lucie Chartin (sopraan) | nnb (viool) | Robert de Bree | Robert Koolstra & Nika Zlataric (continuo)
entree
€25,00
Kaarten via: